Wednesday, 29 January 2014
I've been
bad
this month. To be honest, what I'm showing you today is not even
half
of what I've bought, but I thought I'd spare you the less exciting stuff. So much for recovering from the debts of Christmas - I think my credit card has taken the hardest hit this month!
I blame my empty bank account on
Mecca Cosmetica
, I just shouldn't even walk
past
this place, let alone in! It's like I walk in and all reasoning and logic is left at the door. Go figure. So naturally, last week I walked in with the intention of buying the
Nars 'Douceur' Blush
, and ended up walking out with not only the blush (pictured below), but also one of the highly coveted
Diptyque
candles, because hey, I don't need food or petrol, right?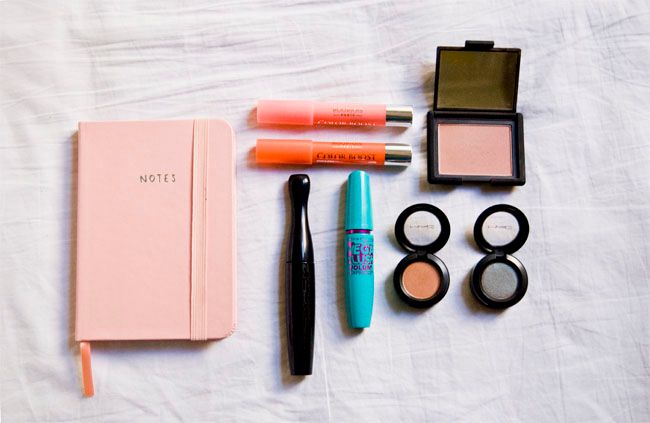 A recent trip to Kikki K resulted in the purchase of this cute little notebook which has been calling my handbag home as of late. It's so helpful to jot down any blogging ideas I have in here, and it's small enough and light enough to carry around with me. The entire collection is seriously cute, and I wouldn't be surprised if I found myself back in there for more! It's a good thing I don't work there any more, or my pockets would be
so
empty.
I had some reward points to spend at Myer the other day, so I headed to the MAC counter and picked myself up an eyeshadow in '
Texture
'
and the
In Extreme Dimension 3D
mascara which I've seen a lot of vloggers using lately. The golden brown eyeshadow is perfect for a subtle brown smokey eye and I am actually seriously impressed with the mascara. It definitely is up there with my beloved Clinque, and damn that is saying something. Nothing has quite reached those levels since my Diorshow days.
A friend of mine from the US just recently sent me a few goodies (we have our own 'beauty boxes' we share with each other, I love her!) including the
Maybelline Volume Express Mascara
in '
Mega Plush
' which has this bizarre bendy wand which actually makes application much easier, and MAC's
Club
' which I looked for EVERYWHERE when I was in New York last year, and everyone was sold out! It's such a beautiful shade of green, I can't wait to use it.
Lastly, I picked up two colours in the new
Bourjois Colour Boost Lip Crayon
range, '
Orange Punch
' and '
Peach On The Beach
'. I never have much luck with tinted balms as my lips are so pigmented, but these pack quite the punch. Unfortunately the '
Orange Punch
' on me is less orange, and more berry, but overall seriously pretty, and fairly long lasting!
Have you bought any new products lately? Or has everyone else been good this month...